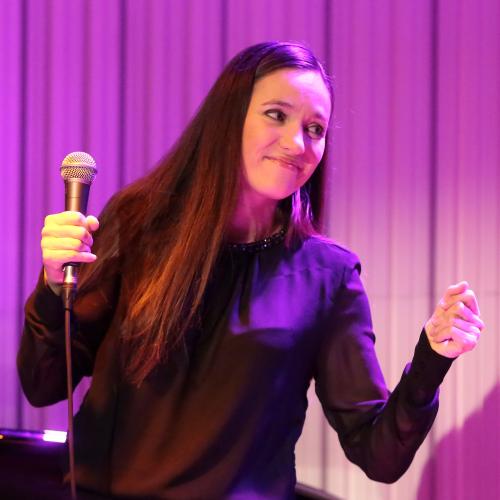 "Just The Two of Us" – Bill Salter Music Show feat. Dorota Miskiewicz  
8 March 2017 (Wednesday), 8:00 p.m. 
Trafostacja Sztuki 
Tickets: 30, 00 PLN - ladies, 60, 00 PLN – gentlemen 
Dorota Miskiewicz – graduate of the Academy of Music in Warsaw, where she studied violin, she soon realized that the only instrument she truly needs are her own vocal cords. The daughter of an renown jazz saxophonist Henryk Miskiewicz, she started her career in the Wlodzimierz Nahorny Sextet with whom she recorded a series of albums devoted to Polish composers: Karol Szymanowski, Fryderyk Chopin and Mieczyslaw Karlowicz. She has been performing with the band since 1995. Her skills and versatility as a vocalist resulted in her cooperation with many acclaimed artists, such as Cesaria Evora – the diva from Capo Verde, Ewa Bem, Jan "Ptaszyn" Wroblewski, Wojciech Mlynarski, Tomasz Stanko, Grzegorz Turnau with whom she records and performs regularly since 2005, and many others. She has released five solo and collaborative albums: "Dorota Miskiewicz Goes to Heaven – Zatrzymaj sie" (2002), "Pod rzesami" (2005), "Caminho" (2008), "Ale" (2012), and an album recorded with Kwadrofonik band "Lutoslawski, Tuwim. Piosenki nie tylko dla dzieci" ["Lutoslawski, Tuwim. Songs Not Only for Children"](2013). She also performed in a duo with Jerzy Wasowski, and Italian pianist Stefano Bollani (included in the newly released album "Best Of"). Until recently she was engaged in a gigantic concert project "PIANO.PL", meant as a tribute to Polish piano music. The vocalist invited several most acclaimed Polish pianists to participate in the project, including Leszek Mozdzer, Marcin Wasilewski, and Andrzej Jagodzinski. The concert has already been released on CD, DVD and vinyl. Dorota, as a vocalist, is a tireless seeker, experimenting with jazz, pop, Brazilian, Balkan ("Jovano Jovanke" song), African (duo with Cesaria Evora) and classical music (albums recorded with Nahorny and Kwadrofonik band). She is also songwriter and composer of many of the songs she performs. Socially engaged, she also does her best to support the "Legal Culture" campaign.